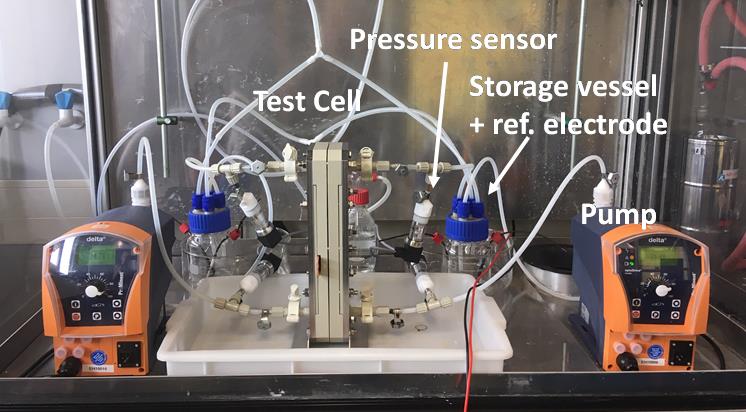 During the second project year, ECN part of TNO has further optimized the redox flow battery (RFB) test set-up. The resulting test set-up includes the test cell with 100 cm2 electrode area and the anolyte and catholyte recirculation system, including pumps, storage vessels and in-line redox potential and pressure sensors (see figure 1). The test set-up is able to perform charge/discharge cycles, electrolyte redox potential measurements and electrochemical impedance spectroscopy measurements. With this test set-up, the charge/discharge performance of the redox flow battery has been tested by varying the following parameters:
The current density (0-200 mA/cm2)
The electrolyte flow rate (0 – 400 ml/min)
The electrode flow field design
The outcome of these tests have revealed a valuable interdependence between these parameters and the maximum attainable state-of-charge (SOC). The interdependencies provide valuable information to further lower the internal energy losses of the test cell and thus improve the round trip efficiency of the RFB-system, by adjusting the electrode flow field design and finding the optimum electrolyte flow rates combination with the current density.
More information: Frans van Berkel, ECN part of TNO
Comments are closed